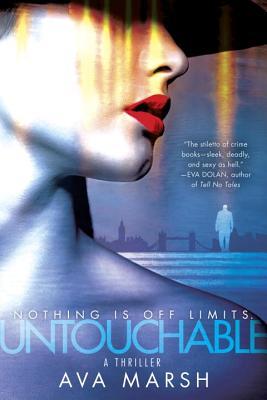 Publication Date: October 6th 2015 by Berkley
About the book:
Spend a night of sexual adventure with this gritty, debut thriller.

In a toxic world of lust, lies, and elegant hotels, London's high-class escorts cater to the carnal appetites of powerful men. It's a game Stella knows how to play, one that allows her to escape the nightmares of her past. The rules are simple: always leave your client satisfied, don't get involved, and never disclose your real name. But when a fellow call girl is murdered, the game changes completely. And there's only one rule—survival.

Once a respected professional, Stella knows how easily men can get away with murder—especially when the victim is a prostitute. Determined to get to the truth, she finds herself sucked into a deadly conflict with some of the world's most powerful men. But while they may consider themselves above the law, there's one secret every escort knows: no man is truly untouchable.
Stella is a high priced call girl, not in the business just for the money, but in it for the escape it brings her. Right away you realize that Stella is trying to forget her previous life, one where she had a "respectable" life and job, and getting down to the bottom of what happened is just one of the mysteries. It was fascinating being the "the fly on the wall" as Stella takes on clients and gets through this type of life; the way she stayed detached and approached her job almost in a clinical manner. Still, there is a client or two that get under her skin, and I had romantic hopes for one of them. Things become dangerous and a lot more interesting after one of her professional girlfriends is murdered. Stella is shaken and jolted awake by the murder, and she's no longer able to drift along in numb avoidance of her past.
Stella really did get herself into the middle of a frightening situation, and I wondering how she'd find a way out, but I was pleased with her clever thinking. I found Stella to be a sympathetic character, but I did want to shake her a few times when it was clear her lifestyle was part escape/part penance over her past, especially when her choices hurt the people that cared for her.
"You convict yourself without a trial. Now you're living out the life sentence you gave yourself."
It seems most of us are our harshest critic or judge, but at some point it's time to move on and realize there's nothing you can do about the past. While I wasn't happy her friend was murdered, I'm glad Stella didn't just go about her life like normal after.
Untouchable was a different sort of read for me. Yes, I've read countless mysteries/thrillers, but never one with a call girl at its center. To be honest, I was a little hesitant to pick up the story for that very reason. The thought of reading about a working girl didn't appeal to me, but the story was captivating and not off-putting like I thought it might be. I will say some scenes were graphic and gritty, fair warning.
Even though it wasn't the central focus of the story, there is a romance. Ben was delicious and their time together was very sensual. Their chemistry was palpable, heated, and it felt like something that had long term potential. You know when a couple just clicks? I felt that with Ben and Stella, so I of course was hoping for a happy ending with them.
"Jesus, Stella. I've been thinking about you…about this, for weeks. It got so I thought I must be imagining how good it was."
Ava Marsh's debut
was engrossing, suspenseful, and beautifully written! I thought the setting of London with its moody weather was perfect and atmospheric for this thriller. I'll definitely be on the watch for whatever Ms. Marsh writes next.
4 Suns
Website | Facebook | Twitter | Goodreads
The lovely people of Berkley have generously provided a copy of Untouchable by Ava Marsh to one Waves of Fiction follower. The giveaway is open to US Residents only. Fill out the rafflecopter for a chance to win. Good luck!
a Rafflecopter giveaway