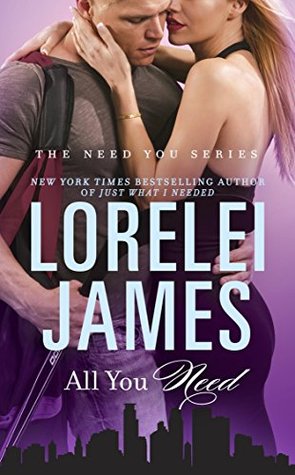 All You Need (Need You #3) by Lorelei James
Publication Date: April 4th by Berkley Books
Purchase Links:
Amazon | Barnes & Noble | Kobo
About the book:
A hockey romance burns up the ice in the third sexy Need You novel from the New York Times bestselling author of the Mastered Series and the Blacktop Cowboys® Series.

PR agent Annika Lund can spin any disaster into a win. But revamping the reputation of a notorious Swedish hockey player will take every trick in her arsenal, especially when his agent insists that convincing everyone he's no longer a playboy is top priority. And that it requires a sham relationship—with Annika playing the part of loving girlfriend.

On fire in the rink and in the bedroom, Axl Hammerquist couldn't care less about being anyone's golden boy. So when his agent forces him to play nice with a new publicist, he takes satisfaction in being as much of a pain as possible. But the more time he spends getting to know Annika, the more Axl starts to think that being Mr. Nice Guy might be worth it if it gets him the girl...
I've been waiting to get my hands on Annika and Axl's story ever since Axl got all up in Annika's space in
Just What I Needed
. The sparks were flying then, so I knew this was going to be good!
Axl's reputation as a manwhore and partier has affected his hockey career badly, resulting in a trade to a new team. Axl needs to come off as serious and focused on hockey, so in an attempt to up his appeal Axl has to clean up his act. Part of that plan is pairing up with Annika, his new fake girlfriend. She's gorgeous, a perfect Swedish beauty, nick-named the Iron Princess for her ruthless reputation, and Annika thinks he's the scum of the earth.
Annika Lund is head of Lund Industries' PR division. She didn't think taking on Axl as a client would include being forced into a fake relationship with him. They get off on the wrong foot, both pretty much despising each other. It's just cruel that Annika finds herself attracted to Axl, but hey, he is the epitome of a big hot Nordic god, so how can you really blame her?
Axl and Annika are blond, beautiful and Swedish; they look like the ultimate couple. Behind closed doors, though, they snipe and snarl, exchanging barbs, a hot attraction brewing in spite of all the jabs, and I loved it! They had a great antagonistic relationship to start off, filled with heated exchanges; so much fun! I had to laugh at the names they had for each other: Attila for Annika, but Annika's names were the best: Ax-Hell, the pucktard, Swedish meathead, Ax-hole, etc, you get the picture.
As they're forced to spend time together, they get to know each other, and slowly the animosity fades, the ice begins to melt. Reputations are not always as they seem, both for Axl and Annika, and their "fake relationship" turns into more: hot, passionate and delicious! They had oodles of chemistry, just the way I like it!
Love it when an author can make me initially hate a character, and then completely turn things around. I couldn't stand Axl at the beginning, and then loved him by the end! Annika impressed me from the first page; she was strong, independent, smart with a soft heart underneath it all.
Lorelei James' scored with her new hockey romance! I just love a well done antagonistic romance with a sweet, sappy HEA!
Connect with Lorelei James:
Berkley has kindly provided a Paperback Copy of All You Need by Lorelei James to giveaway to one reader. The giveaway is open to US residents only. Fill out the rafflecopter below for a chance to win. Good luck!
a Rafflecopter giveaway