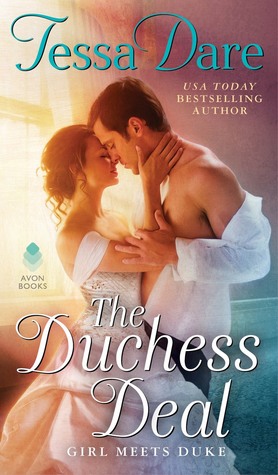 Publication Date: August 22nd 2017 by Avon
About the book:
When girl meets Duke, their marriage breaks all the rules…

Since his return from war, the Duke of Ashbury's to-do list has been short and anything but sweet: brooding, glowering, menacing London ne'er-do-wells by night. Now there's a new item on the list. He needs an heir—which means he needs a wife. When Emma Gladstone, a vicar's daughter turned seamstress, appears in his library wearing a wedding gown, he decides on the spot that she'll do.

His terms are simple:
- They will be husband and wife by night only.
- No lights, no kissing.
- No questions about his battle scars.
- Last, and most importantly… Once she's pregnant with his heir, they need never share a bed again.

But Emma is no pushover. She has a few rules of her own:
- They will have dinner together every evening.
- With conversation.
- And unlimited teasing.
- Last, and most importantly… Once she's seen the man beneath the scars, he can't stop her from falling in love…
Tessa Dare's writing is brilliant! She's one of my all-time favorite historical romance writers, so it's no surprise that The Duchess Deal was utterly fun, with clever banter, but also emotional and touching.
The Duke of Ashbury is a dark and difficult man after the war left him a scarred shell of his former self. His fiancée could hardly bare to look at him so their engagement came to an end, but Ash still needs to produce an heir to inherit. As he's mulling this over, Emma crashes into his life, a seamstress demanding payment for his former fiancée's wedding dress, and the solution seems to appear right before his eyes.
I had so much fun reading as this marriage of convenience inevitably turn into more. Emma wants more than just a physical relationship, and that more gradually pierces Ash's poor, scarred heart. His insecurities over his injuries make it hard to believe that Emma could ever actually desire him, and Emma worries that if she falls in love she'll get her heart trampled, as has happened in the past; so they each have hurdles to overcome. It took some time for the emotional barriers to come down, but their physical relationship turned hot right away. In the interest of producing an heir neither holds back, and, oh my, did they burn up the sheets! Pretty hard to keep someone at arm's length when you're lusting after them all the time!
Witty, hilarious, sizzling and emotional,
The Duchess Deal
was a splendid start to Tessa Dare's newest series:
Girl Meets Duke
!