Hello readers! I'm excited to be part of this giveaway hop because it reminds me to try other genres. Do you ever feel your stories are too similar and have no enthusiasm to read? One way to cure a book slump is to switch genres! This giveaway is hosted by StuckInBooks. You can find the complete list of participating blogs by clicking HERE.
I rarely read Historical Fiction (with romance, of course!) but every time I do, I love it. Here are a couple of examples of books I loved in this genre and I'll be giving away a copy of both, so be sure to scroll down to the bottom for a chance to enter and win! This giveaway is INTERNATIONAL!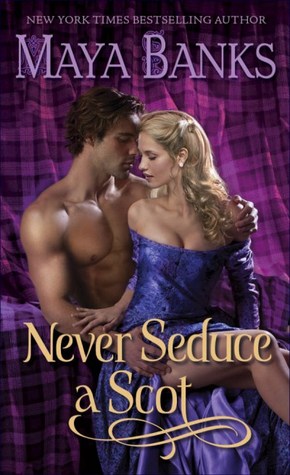 Never Seduce a Scot by Maya Banks
Publication Date: September 25th 2012 by Ballantine Books
Eveline Armstrong is fiercely loved and protected by her powerful clan, but outsiders consider her "touched." Beautiful, fey, with a level, intent gaze, she doesn't speak. No one, not even her family, knows that she cannot hear. Content with her life of seclusion, Eveline has taught herself to read lips and allows the outside world to view her as daft. But when an arranged marriage into a rival clan makes Graeme Montgomery her husband, Eveline accepts her duty—unprepared for the delights to come. Graeme is a rugged warrior with a voice so deep and powerful that his new bride can hear it, and hands and kisses so tender and skilled that he stirs her deepest passions.

Graeme is intrigued by the mysterious Eveline, whose silent lips are ripe with temptation and whose bright, intelligent eyes can see into his soul. As intimacy deepens, he learns her secret. But when clan rivalries and dark deeds threaten the wife he has only begun to cherish, the Scottish warrior will move heaven and earth to save the woman who has awakened his heart to the beautiful song of a rare and magical love.
Mine Till Midnight by Lisa Kleypas
Publication Date: October 2nd 2007 by St. Martin's Paperback
Their lives defy convention.

When an unexpected inheritance elevates her family to the ranks of the aristocracy, Amelia Hathaway discovers that tending to her younger sisters and wayward brother was easy compared to navigating the intricacies of the ton. Even more challenging: the attraction she feels for the tall, dark, and dangerously handsome Cam Rohan.

Their desire consumes them both.

Wealthy beyond most men's dreams, Cam has tired of society's petty restrictions and longs to return to his "uncivilized" Gypsy roots. When the delectable Amelia appeals to him for help, he intends to offer only friendship—but intentions are no match for the desire that blindsides them both. But can a man who spurns tradition be tempted into that most time-honored arrangement: marriage? Life in London society is about to get a whole lot hotter…
A copy of Never Seduce a Scot by Maya Banks & a copy of Mine Till Midnight by Lisa Kleypas to one lucky Waves of Fiction follower. The giveaway is International as long as The Book Depository ships to your country. Click HERE to see a complete list. I can give an e-Copy if you prefer to US Residents only through US Amazon or US Barnes & Noble. Good luck!
a Rafflecopter giveaway