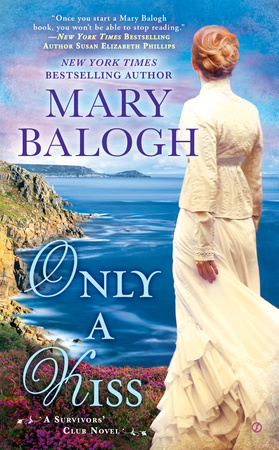 Publication Date: September 1st 2015 by Signet
The Survivors' Club: Six men and one woman, injured in the Napoleonic Wars, their friendships forged in steel and loyalty. But for one, her trials are not over....

Since witnessing the death of her husband during the wars, Imogen, Lady Barclay, has secluded herself in the confines of Hardford Hall, their home in Cornwall. The new owner has failed to take up his inheritance, and Imogen desperately hopes he will never come to disturb her fragile peace.

Percival Hayes, Earl of Hardford, has no interest in the wilds of Cornwall, but when he impulsively decides to pay a visit to his estate there, he is shocked to discover that it is not the ruined heap he had expected. He is equally shocked to find the beautiful widow of his predecessor's son living there.

Soon Imogen awakens in Percy a passion he has never thought himself capable of feeling. But can he save her from her misery and reawaken her soul? And what will it mean for him if he succeeds?
Lady Barclay, Imogen, is one of the Survivors' Club, a group who were damaged in some way by the Napoleonic Wars, and formed lasting friendships through their shared recovery. Imogen witnessed her husband's death, and she came back shattered. Eight years later she passes her time "living" at Hardford Hall, the childhood home of her late husband, but now the new heir, Percival Hayes has come home to claim the title and property. Percy doesn't make a good first impression and these two are at odds immediately. She thinks he's an arrogant, spoiled, man, even if he's impossibly handsome, and Percy thinks Imogen is the lady made of marble, an infuriating, stone cold woman.
Percy has always been full of easy charm and effortlessly got along with everyone. There wasn't a female around who could resist him, but Imogen is entirely unaffected. She gets under his skin something fierce. As he gets to know her he sees the strong woman underneath the marble façade, and begrudging realizes he's attracted to her. Intensely. Percy knows Imogen lost her husband in the war, doesn't know the brutal details, but he's sure it's something that must have been truly horrific.
Imogen doesn't feel worthy of living a happy life, only deserving a pale grey existence, and that's exactly how she's lived the last eight years. Percy's arrival disrupts her careful, controlled existence, and while she first thought of him as arrogant and entitled, getting to know him she discovers he's a man of honor and heart. Percy makes Imogen feel again. Like her heart is coming back to life, something that frightens her immensely. More is at stake than just her heart with Percy's arrival. New information about her husband's death comes to light which puts Imogen in danger again.
I felt awful for Imogen when I found out the details surrounding her husband's death, something that's haunted her for years. She definitely suffered from survivor's guilt and I was worried that there would be a constant denial of happiness that I'd find frustrating, but thankfully that was not the case at all. While it sounds like Only a Kiss was a heavy, dark read, there was a lot of passion, joy and happiness within the pages. There was a fair amount of humor, too, from the banter between Imogen and Percy, to Cousin Adelaide and her gruff, man-hating commentaries. Also, there was a menagerie of rejected pets. Mutts and misfits that found their way to Hardford Hall, much to Percy's irritation, especially when the ugliest of the mutts attaches himself to his side, and burrows into his heart. Aww…
Only a Kiss
is the sixth installment of The Survivors Club series, each book focusing on one member's romance and recovery from the atrocities of the Napoleonic Wars. It's not necessary to read any of the previous books in the series, they all work well as standalones, but each of the previous stories are just as emotional and moving as Imogen's. I've read the last two,
Only Enchanting
and
Only a Promise
and loved both! I'm eagerly looking forward to the next,
Only Beloved
, the Duke of Stanbrook, George's story, which will be the last of the series. I'll be sad to say goodbye!