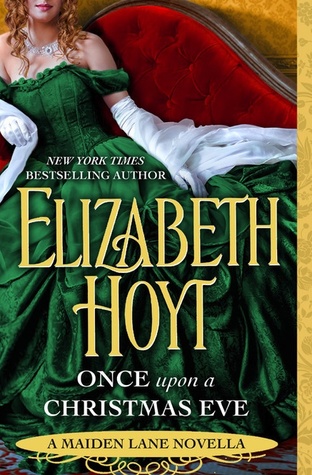 Once Upon a Christmas Eve (Maiden Lane #12.6) by Elizabeth Hoyt
Publication Date: December 5th 2017 by Forever
Purchase Links:
Amazon | Barnes & Noble | Kobo
About the book:
Adam Rutledge, Viscount d'Arque, really rather loathes Christmas. The banal cheerfulness. The asinine party games. And, worst of all, the obligatory trip to the countryside. His grandmother, however, loves the holiday—and Adam loves his grandmother, so he'll brave the fiercest snowstorm to please her. But when their carriage wheel snaps, they're forced to seek shelter at the home of the most maddening, infuriating, and utterly beguiling woman he's ever met.

Sarah St. John really rather loathes rakes. The self-satisfied smirks. The sly predatory gazes. Oh, and the constant witty banter rife with double meaning. But in the spirit of the season, she'll welcome this admittedly handsome viscount into her home. But as the snowstorm rages, the Yule log crackles, and the tension rises, Sarah and Adam find themselves locked in a fiery, passionate kiss. If love is the true meaning of Christmas, it's the one gift this mismatched pair can't wait to unwrap.
Sarah St. John and Viscount Adam d'Arque have crossed paths, but it wasn't a friendly exchange, because Sarah so clearly hated Adam on sight. Sarah isn't fond of rakes, gentleman who seduce and carouse without thought for the women they hurt. But Sarah is about to get another, lovelier version of Adam as their lives are thrown together this holiday season.
Adam is accompanying his Grandmother to their yearly Christmas destination in the country, when their carriage breaks down in a storm. They have no choice but to take shelter at the St. John's, imposing on them during their holiday festivities, something Adam would love to avoid, but he's worried about his beloved ailing Grandmother. Seeing Sarah St. John again is an irritation, since she clearly despised him on their first meeting, but he'll just have to make the best by teasing and tormenting her. As he gets to know Sarah, Adam is feels an irresistible pull towards this sweet, infuriating woman.
I just love a good antagonistic romance, and Elizabeth Hoyt makes them so much fun! There's snips and snipes, sexual tension brewing under the surface, fun banter back in forth until Sarah and Adam realize they actually like each other. But can Sarah trust Adam with her heart? And is Adam interested in forever?
Elizabeth Hoyt's talent as a writer shines even in a short number of pages.
Once Upon a Christmas Eve
is a steamy, chemistry filled romance in a Winter wonderland setting, perfect for the season!
4 Suns