I'm thrilled to be part of the Blog Tour for Reaper's Stand by Joanna Wylde the forth book in this addictive series. As part of my tour stop I have my review, an excerpt and a phenomenal giveaway: $100 Giftcard at winner's choice of book retailer!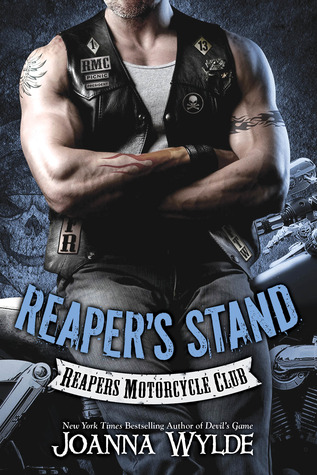 Publication Date: October 7th 2014 by Berkley Trade
As Reapers Motorcycle Club president, Reese "Picnic" Hayes has given his entire life to the club. After losing his wife, he knew he'd never love another woman. And with two daughters to raise and a club to manage, that was just fine with him. These days, Reese keeps his relationships free and easy—he definitely doesn't want to waste his time on a glorified cleaning lady like London Armstrong.

Too bad he's completely obsessed with her.

Besides running her own business, London's got her junkie cousin's daughter to look after—a more reckless than average eighteen-year-old. Sure she's attracted to the Reapers' president, but she's not stupid. Reese Hayes is a criminal and a thug. But when her young cousin gets caught up with a ruthless drug cartel, Reese might be the only man who can help her. Now London has to make the hardest decision of her life—how far will she go to save her family?




My Thoughts:
Reaper's Stand
is the forth installment in
Joanna Wylde's Reaper's Motorcycle Club Series
. I've been anxious to get my hands on Reece's story, the head of the Reaper's MC, because he definitely needed a steady woman in his life! Also, I LOVED the last two books,
Reaper's Legacy
and
Devil's Game
! I enjoyed Picnic/Reece's overall story, just not as much as the rest of the series. That's not to say I don't recommend this book, because I'm in the minority with my feelings, and I will continue to stalk and read anything Joanna Wylde writes!
Reece lost his wife six years ago to cancer, and since then hasn't been interested in a serious relationship. Throughout this series he's hooked up with many, many girls, usually about the age of his daughters or younger! He's been a complete man-whore and hasn't been ashamed of it at all! The beginning scene (excerpt below) really ticked me off, but I can understand Reece being hung up after the loss of his wife. However, the owner of the club's new cleaning service, London, has captured his attention and she's been on his radar for some months now. I was thrilled to find out London was actually in his age range, especially for his daughter's sake, because no daughter wants to witness her father banging his way through her high school class! Gross! Poor Em is all I have to say!
London is a responsible, mature, hardworking woman. She has custody of her teenage cousin, and when Jessica gets herself into trouble, she looks to Reece for help. London wants nothing to do with him personally, she knows Reece's reputation, but he does light her fires! Unfortunately, Jessica brings trouble of epic proportions and London is faced with terrible choices to get her out of danger.
Reaper's Stand may not have been my favorite in the series, but I do have to say it was an addictive read. I blew through it in one day because I HAD to know how it all turned out. I think one of the reasons I had issues is because the way the story opens up cast a sense of dread over the whole story for me. I think I would've been better off not knowing what was coming.
I get the whole MC outlook on sex: free to partake with willing parties with no strings attached. But I didn't care for Reece basically shoving it in London's face. Especially since he had his eye on her in the beginning and then because he was actively pursuing her.
He pulled some pretty dick moves early on. One
really
ticked me off, but then I warmed up to him.
While Reece did infuriate me a few times, I actually liked Reece more than London by the end.
That's not to say that I didn't like London, I did. London cared for her young cousin when she didn't have to, and stood up for what was right. I actually liked the fact that London dished out some much needed retribution on the dirtbags who caused so much trouble! Guess I'm a little violent! But she makes a decision that I just didn't understand, and IMO didn't fit with their relationship. I can see going to extremes when your child or loved one is threatened, but London had confided and relied on Reece at this point in the story. She experienced his care and protection; London knew Reece. So her decision just didn't make a whole lot of sense to me. I think it would be super hard for Reece to forgive London or ever trust her again, and after that I had trouble buying into this couple's romance or chances for a future together. Even so, some of his treatment and what he was willing to do to her just turned me off.
With all that said, I admire the way Joanna Wylde brings out a range of emotions: I'm angry, sad, hot and bothered, swooning and soaring by the end. I'm happy Reece got his steady lady, and I was pleased to get an epilogue several years in the future assuring me very good things. Love Joanna's epilogues! I'm totally looking forward to the next book in the series!
Excerpt:
"Are you gonna sit down or not?" he asked.
"I'm really uncomfortable with"—I gestured toward the woman—"this." "That's not exactly my problem," he said, dropping a hand to rest on her head. "But if it's an issue, you can take her place."
"No," I said quickly.
"Then sit the fuck down and tell me why you're here."
His voice tightened, and I realized he was running out of patience. Fair enough—he obviously had other things on his . . . ahem . . . mind. I carefully perched on the edge of the couch, facing the door. This was actually better, I realized. I didn't have to look at him now. Although I could feel the woman's movements through the furniture frame and that was very creepy.
"My cousin's daughter is somewhere at this party," I said quickly. "Her name is Jessica, and she has very poor judgment. I'd really like to get her out of here and home before she does something completely stupid."
Like set the building on fire.
"You got shit timing."
I didn't respond, because what the hell would I say? So far as I knew, Hallmark didn't make a "Sorry I Interrupted Your Oral Sex" card.
Book 1
Book 2
Book 3
About the author:
Joanna is a freelance writer living in Coeur d'Alene, Idaho. She started writing fiction in 2002, then took a long hiatus to explore other writing opportunities. She returned to fiction in January 2013 with 'Reaper's Property', the first book in the Reapers Motorcycle Club series.
$100 Gift Card (Winner's choice of book retailer)
a Rafflecopter giveaway