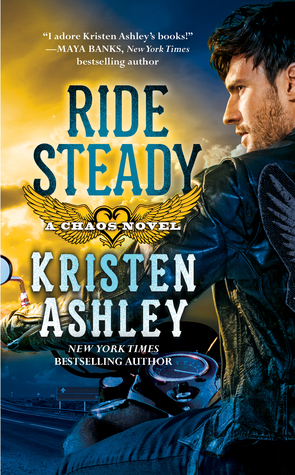 Publication Date: June 30th 2015 by Forever
About the book:
The ride of her life . . . Once upon a time, Carissa Teodoro believed in happy endings. Money, marriage, motherhood: everything came easy---until she woke up to the ugly truth about her Prince Charming. Now a struggling, single mom and stranded by a flat tire, Carissa's pondering her mistakes when a vaguely familiar knight rides to her rescue on a ton of horsepower.

Climb on and hold tight . . .
In high school, Carson Steele was a bad boy loner who put Carissa on a pedestal where she stayed far beyond his reach. Today, he's the hard-bodied biker known only as Joker, and from the way Carissa's acting, it's clear she's falling fast. While catching her is irresistible, knowing what to do with her is a different story. A good girl like Carissa is the least likely fit with the Chaos Motorcycle Club. Too bad holding back is so damned hard. Now, as Joker's secrets are revealed and an outside threat endangers the club, Joker must decide whether to ride steady with Carissa---or ride away forever . . .
My Thoughts:
I loved Ride Steady! In fact I finished all 640 pages of it in a 24 hour period! Kristen Ashley has a way of grabbing hold of you with a story and not letting go.
Carson Steele, now known as "Joker" in the Chaos Motorcycle Club was smitten with Carissa Teodoro in high school. She was beautiful, popular; the golden girl cheerleader and a girl who would barely notice someone like Carson, in his opinion. But years later Carissa's life has taken a turn and Carson is there for her at the right place and time.
Carissa was sweet as pie. Unfortunately, that sweetness made her overlook signs and rumors that should have sent the red flags up and warned her against marrying Aaron in the first place, her gigantic dick of an ex-husband. Carissa is struggling as a single mom, barely able to make ends meet after Aaron kicked to the curb. This all changes when Carson "Joker" Steele pulls over and changes her flat tire.
While Joker didn't want to claim her initially, (hang ups from a bad childhood overruled his common sense at first). The Club witnesses an upsetting scene with Carissa, and recognizing she is a good woman in need of help they pull out all the stops to have her back.
One of the many things I loved about this installment is the fact that Joker and Carissa were a solid, united front once they made a go of things. I adore a romance based on unrequited love! Intense longing and yearning from afar finally being recognized and returned sends my spirits soaring!
The kids in Ride Steady were so beyond cute! First there's Carissa's nine month old baby, Travis, or "Googly" as she calls him. Whether he's making his baby talk or climbing all over Joker and Carissa he's just too cute! I fell in love and so did Joker! I was completely cracking up over Tyra and Tack's kids, Rider and Cutter or the "Hooligans" as they were called, and boy were they ever, but they still had a heart. Rider was upset by the fact that Carissa's ex did something "mean" to her:
"I hate him too!" Rider cried loyally. I forced a grin at him but said, "That's sweet, cutie, but you really shouldn't hate people."
"You should if they're mean," Rider returned.
Aww….
Ride Steady is another win for me, but I've loved every Chaos installment, so that's not a great surprise. I adored the secondary characters, the loyalty between the Chaos Motorcycle Club members and anyone they claim as their own, but most of all Joker and Carissa's romance!