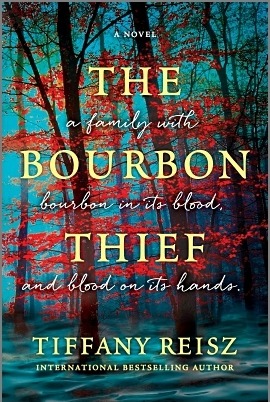 Publication Date: June 28th 2016 by MIRA
About the book:
From the internationally celebrated author of the Original Sinners series comes a brand-new tale of betrayal, revenge and a family scandal that bore a 150-year-old mystery

When Cooper McQueen wakes up from a night with a beautiful stranger, it's to discover he's been robbed. The only item stolen—a million-dollar bottle of bourbon. The thief, a mysterious woman named Paris, claims the bottle is rightfully hers. After all, the label itself says it's property of the Maddox family who owned and operated Red Thread Bourbon distillery since the last days of the Civil War until the company went out of business for reasons no one knows… No one except Paris.

In the small hours of a Louisville morning, Paris unspools the lurid tale of Tamara Maddox, heiress to the distillery that became an empire. But the family tree is rooted in tainted soil and has borne rotten fruit. Theirs is a legacy of wealth and power, but also of lies, secrets and sins of omission. The Maddoxes have bourbon in their blood—and blood in their bourbon. Why Paris wants the bottle of Red Thread remains a secret until the truth of her identity is at last revealed, and the century-old vengeance Tamara vowed against her family can finally be completed.
The Bourbon Thief was a power and riveting story with lies, murder, betrayal, and passion.
Paris spends the night with Cooper McQueen and attempts to steal the last known bottle of Red Thread Bourbon, a bottle worth a million dollars. Caught in the act, Paris has no choice but to tell him why, and she spends the night telling him a tale of the past: haunting, sad, sensual, and triumphant. A tale that had Cooper on the edge of his seat. A tale that had me on the edge of my seat.
I think it's best to go into The Bourbon Thief with as little information as possible, but I will say Ms. Reisz writing is beautiful, captivating and so very sensual! The romance was intense, desperate, and very HOT! I'd like to know more of Paris' future, of what may be, but even so I was satisfied with how the story ended.
4 Suns
Connect with Tiffany Reisz: