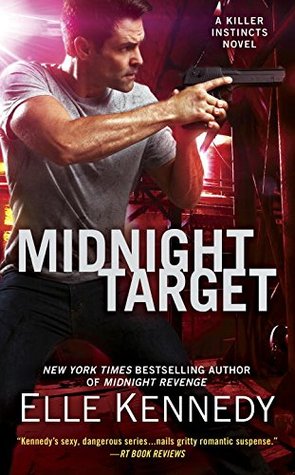 Publication Date: April 25th 2017 by Berkley Books
About the book:
From the New York Times bestselling author of The Score and Midnight Revenge...

Four years ago, Cate's entire life changed when she discovered she was the daughter of a supersoldier. But Jim Morgan's overprotectiveness has pushed her away. These days, she's working as a freelance photographer and living the dangerous life Jim never wanted for her.

When Cate snaps a photo linking a corrupt South American politician with the leader of a notorious drug cartel, her mercenary father leads a team to rescue her—only to get shot and critically wounded in the process.

As Morgan's operatives rally together on a revenge mission, they're faced with new alliances and old heartaches. Cate is forced to work with David "Ash" Ashton, the man who broke her heart two years ago, while Liam Macgregor and Sullivan Port resurface after years apart to finally try to deal with everything they'd left unsaid.

Soon it's all-out war between the cartel and the mercenaries—with two couples caught in the middle of the blood feud. Love and redemption are within their reach...but first they have to make it home alive.
Cate, Morgan's daughter, quit college and moved onto photography, taking her all over the world, much to Morgan's disappointment. He wanted Cate to stay in college, graduate, meet a nice (boring) man, and settle down. Morgan didn't want his mercenary soldiers anywhere near his daughter. Unfortunately for Mogan, years at the compound meant that Cate formed a friendship and powerful attraction to the youngest merc of his team: David "Ash" Ashton. They got each other, connecting as friends before the attraction ever came into play. But every time Cate would see the heat creep into Ash's eyes, he'd shut it down and run for cover. Finally, when Cate laid herself bare, Ash turned her away and broke her heart. Two years later she's out on her own, loving her work and trying to forget she ever met Ash. That is until Cate snaps a photo and all hell breaks loose. Now Ash is back in her life trying to protect her whether she wants him there or not.
Ash has had it bad for Cate, Morgan's daughter since she was seventeen and very off limits. She's now of age at twenty-one, but Morgan, his boss, has made it clear that he wants better for his daughter. Maybe if it were any other man Ash wouldn't care, but Morgan accepted him into his band of men, became like a father he never had, so his approval means a lot. What is and isn't important quickly clarifies for Ash when Cate's life is at stake. He burns for Cate, especially at the thought of losing her forever! Will she take a chance on him after the way he treated her?
Liam and Sully have been dancing around each other in several books. Their story has been quite tumultuous. Every time I thought the walls would come down, some wrench would get thrown in the works. Engaging in several threesomes over the years, they've got a look at each other in the height of passion and their attraction just grew and magnified from there. The sexual tension between them was palpable! Liam's traditional upbringing was an issue. He didn't know how his family would take the news that he's bisexual. Sully, on the other hand, had past demons that made committing to a relationship seem impossible. I was thoroughly ready for these two to finally sort everything out and come together, and it was lovely!
Oh, unrequited romance! Both are filled with longing and pain from perceived rejection! With Elle Kennedy you just know the payoff is gonna be really hot, and really good! She definitely knows how to turn up the heat! In between the adrenaline rush from the life and death situations these two couples face, they manage to get some very sexy alone time!
I was really worried for the team, hoping none of my favorite characters would bite the dust, because everyone was a target to this psycho killer! The suspense part of this romantic suspense kept me on the edge of my seat at times!
I've loved the
Killer Instincts
series from the beginning, so I have bittersweet emotions knowing this is the last book. On one hand, I'm thrilled to finally get Sully and Liam's and Cate and Ash's romances, but I'm sad to say goodbye!
Midnight Target
was everything I wanted, especially in Sully and Liam's case, and the epilogue was wonderful! If you haven't had a chance to read this series, this is the perfect time to pick it up! All the books are out! Each couple had an exciting and passionate story, and who doesn't love a good series binge read?!
4 Suns
Berkley has generously provided A Paperback Copy of Midnight Target to giveaway. Yay! The giveaway is open to US residents only. Fill out the rafflecopter below for a chance to win!
a Rafflecopter giveaway