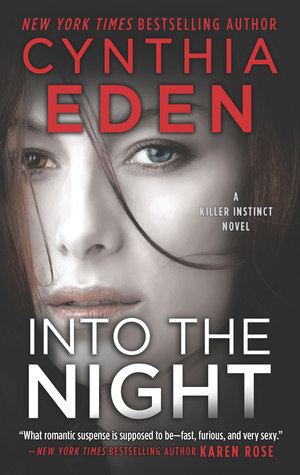 Publication Date: December 26th 2017 by HQN
About the book:
Two FBI agents are caught in a merciless vigilante's crosshairs in New York Times bestselling author Cynthia Eden's electric Killer Instinct series

Sheltered in the shadows of the Smoky Mountains is the suspect who's summoned FBI agent Macey Night's fears to the surface. Every day that the "Profiler," a vigilante serial killer, escapes justice is another day she's reminded of what it is to be a ruthless predator's prey. Capturing him is a craving deeper than anything she's felt in a long time. But Agent Bowen Murphy, equal parts sexy and volatile, seems hell-bent on changing that. Working together—needing, living and breathing each other—they're entwined to distraction.

Bowen's used to operating on impulse: act, don't feel. Now Macey and the controlled terror behind her beautiful eyes have him rethinking everything, including his rule to never get close to a colleague. He's willing to fight for a future with Macey, but the consequences of love could be deadly.
Bowen and Macey are partners in Samantha Dark's unique FBI profiling division, and so even though they're attracted to each other they've kept their relationship professional. That's about to change when Macey's dark past becomes their latest case. Emotions that Macey's been able to lock down and control come churning up and she turns to Bowen for comfort and oblivion, giving in to that powerful sexual pull between them.
Bowen's crazy about Macey, but his own dark past and Macey's reaction has held him back from revealing his feelings. However, he's not about to refuse her offer of sex with no-strings now even if he wants more. And with the new threat, a vigilante killer who knows both Macey and Bowen's past, he's grabbing on and holding her tight.
This killer is a few steps ahead of Macey and Bowen, hunting notorious killers while taunting them. It seems he's focused his sinister attention on them for some unknown reason. They both struggle with a dark past, the reason they were invited to be on Samantha's profiling team is because they've both had personal experience with serial killers. Macey was a friend, colleague, and then victim of "The Doctor". She barely managed to get away with her life, while "The Doctor" got away to hunt more. Bowen's link to a serial killer is revealed as the story progresses, and each of their tales figure into this story.