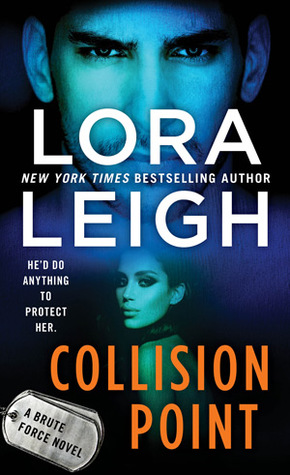 Publication Date: February 27th 2018 by St. Martin's Press
About the book:
From #1 bestselling author Lora Leigh comes Collision Point, part of the thrilling Brute Force series—packed with powerful men, steely women, and explosive passion.

SHE'S NOTHING BUT TROUBLE
Riordan Malone is more than a bodyguard. As an Elite Ops agent, he's ripped, raged, and ready to rumble—a true warrior, inside and out. But no war zone can compare to the battle in Rory's heart when he lays eyes on the only woman he's ever loved—and thought he had lost forever. . .

HE'S EVERYTHING SHE NEEDS
As the daughter of a crime lord, Amara Resnova has endured the cruelty of her father's enemies—and has tried to escape that world ever since. Now, she must reach out to the one man who saved her life, even if she's never forgiven him for breaking her heart. But Amara is tougher today than she was then. She's also more desirable to Rory—and dangerous to love. Can he protect her from her father's enemies without surrendering to his own passions…or will love seal their fate for good?
Riordan Malone almost lost his life rescuing Amara Resnova, his lover and charge, from her father's enemies and has spent the last six months getting back to 100% without a word from her. Now she's back at Riordan's door, asking for help, because it appears someone is still after her. Riordan's more than a little upset that Amara turned away from him but won't turn her away when she's in need.
Amara can't remember the last year of her life, but she's has vivid nightmares of death, and haunting erotic dreams of a man she discovers to be Riordan Malone, a man who was once her bodyguard. Odd occurrences and accidents start happening, and Amara just knows she's in danger all over again. She has only shadowy memories of him, but her instincts tell her Riordan is the one to help her, a man she can trust to protect her. What she doesn't expect is the animosity rolling off him when they meet.
Collision Point was an entertaining read, one that held my attention until the end, but not without some issues for me. The story was heavy on sexy times, which as a romance junkie I do appreciate, but it was to the point that it interrupted the pacing and urgency of the mystery. Also, the writing was a bit distracting. Long sentences had me reading and rereading to get the meaning. Some of the descriptions of the sex were too wordy and had me cringing, at times. Even so, the book was still pretty darn hot, with a lot of sizzling sexual tension between Amara and Riordan!
Even with the above issues, I couldn't put the story down. I suspected the reasons Amara lost her memory, but I wanted to see how it all worked out. Also, I wanted a happy ending for Amara and Riordan.
3/3.5 Suns
Author Bio:
#1 New York Times bestseller Lora Leigh is the author of the
Navy SEALS
, the
Breeds
, the
Elite Ops
, the
Callahans,
the
Bound Hearts
, and the
Nauti
series.
Connect with Lora Leigh:
The lovely people of St. Martin's Press have generously provided a Paperback Copy of Collision Point to one lucky reader! The giveaway is open to US Residents only. Fill out the rafflecopter for a chance to win. Good luck!
a Rafflecopter giveaway