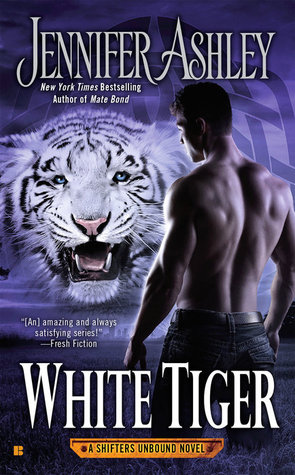 Publication Date: April 5th 2016 by Berkley
About the book:
A woman is lured into the shadows of a dangerous manhunt...
Wanted and on the run...

For twenty years, Kendrick, a white tiger Shifter, has been the Guardian of un-Collared Shifters who spend their lives living in secret—and in fear of being shunted into Shiftertowns. When Kendrick's group is discovered and forced to flee, Kendrick is more desperate than ever to protect them

His only salvation was in a beautiful stranger.

In a diner in the middle of nowhere, lonely waitress Addison Price has seen a lot of unusual drifters come and go, but none has ever captivated—and intimidated—her like the imposing fugitive who wields a broadsword with incredible skill. But when he risks all to protect her, Addison's fear turns to empathy—and empathy to desire as she learns more about her savior. Soon she's more than willing to help the crushingly sensual white tiger and his cubs in a passionate bid for freedom. Whatever the cost.
Addie works at a diner and the night shift has given her something to look forward to ever since a big, strong, handsome man has been coming in with three small boys in tow. Every night she serves them pie drawing out the shy and adorable boys with treats and silly faces in whip cream. When they leave Addie analyzes every word and glance uttered by the handsome stranger, dreaming of the next time she can see him again. Addie's whole world changes when men show up gunning for the man and she's caught in the middle.
Kendrick knows he shouldn't keep going back to the diner for pie, but Addison, the beautiful waitress has captured his attention and he can't stop himself. Add in the fact that his cubs adore her and the pie she serves every night, and he's a goner. As he feared, danger followed him plunging Addie into his Shifter world when he needs her help in looking after his cubs. If he's being honest, Kendrick just doesn't want to leave Addie and so he scoops her up and goes on the run.
Urban Fantasy is one of my favorite escapes. I get action, magic, and romance wrapped up in one fun package. I do love Shifter stories with their primal instincts and urges guiding a lot of their actions and the hierarchy and pack dynamics. While
White Tiger
was an entertaining read I can't say it's in the same caliber as my favorites like Kate Daniels or Mercy Thompson. I'd call it Urban Fantasy lite: a fun way to spend the afternoon reading, but without the same depth as Kate Daniels or Mercy Thompson. Still, like I said, it was a lot of fun and with plenty of sizzle! This was my second read of the
Shifters Unbound
series and I was happy to "see" Tiger and Carly again from book five, Tiger Magic.
3 Suns
Connect with Jennifer Ashley:
The lovely people at Berkley generously provided a Paperback Copy of White Tiger to one Waves of Fiction follower. The giveaway is open to US or CA residents only. Simply fill out the rafflecopter for a chance to win.
a Rafflecopter giveaway