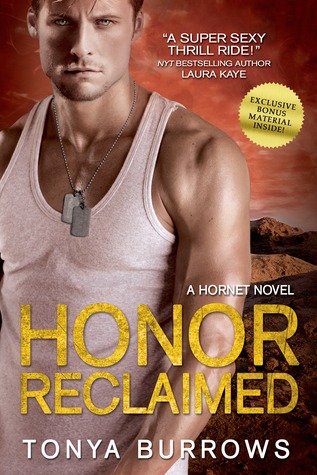 Publication Date: May 27th 2014 by Entangled Select
Former Marine sniper Seth Harlan is determined to prove that he can still do his job despite his ongoing battle with PTSD. When an old friend contacts HORNET to rescue a black ops soldier, Seth's stability is strained. He knows all too well what it's like to rot inside an enemy camp, praying for rescue and waiting for death. And he's not about to leave a man behind.

Photojournalist Phoebe Leighton just stumbled into the middle of an arms deal. Teaming up with a ragtag team of mercenaries is the last thing she wants to do--especially when she realizes Seth Harlan is assigned to the mission. He may ignite a passion in her she thought long dead, but Phoebe's hiding a secret that could destroy him.

With a bomb in the mix, HORNET's mission is suddenly about a lot more than an abandoned soldier. Racing against the clock, Seth, Phoebe, and the rest of the team struggle to stop a ruthless warlord bent on power, revenge...and death.
My Thoughts:
Honor Reclaimed is romantic suspense at its best: thrilling, sexy and fast paced. Seth Harlen's story was emotional, moving and heartbreaking at times.
Seth is suffering from PTSD after being held captive and tortured as a POW for fifteen months. Nightmares and terrifying memories haunt him and Seth no longer feels human even two years after his ordeal.
"Are you…okay?"
He laughed, but it was a nasty sound.
"I'll never be okay again."
He's discharged from the Marines but has signed on with the private security team, HORNET, as a sniper. The rest of his team members don't think he's ready for a live mission, but the XO continues to support him when Seth isn't even sure himself. When Greer Wilde comes to HORNET for help extracting a friend and soldier, Sergeant Zak Hendricks, taken in Afghanistan, Seth must go back to the very place he was captured sending him spiraling into panic. Can he hold it together and not endanger the mission? He hopes so, because no one should be left to suffer the atrocities he did.
Phoebe Leighton used to be a cutthroat photojournalist going for whatever sensational story would up her ratings until her story dragged a Marine's name through the mud. A man who never deserved the accusations and innuendo she inadvertently brought upon him. After that Phoebe quit her job, changed her name and went about trying to redeem herself by using her photos and stories to advocate for women's rights or other worthy stories. Little does she know that her current project will lead her directly to the very man she wronged, Seth Harlan.
Seth's experience was seriously heartbreaking and I have no idea how someone could cope with those memories weighing on them. My heart went out to this brave survivor! Seth screws up test missions for HORNET, and is so fragile I was worried he'd freeze up in Afghanistan, and it was a huge test for him. It turns out Seth was tougher than he even imagined, and his experience was an invaluable aid to HORNET's mission to save Zak. Phoebe's care and compassion went a long way in calming him. Plus, her presence awakened desires and emotions he thought he'd never have again.
Nothing could break her, and with that knowledge came a strange sense of peace. There was no way he could damage this woman or corrupt her with his darkness. And maybe…Was it possible the unbreakable had the ability to fix the broken? Christ with the way a simple touch from her lit him up, he almost believed it.
I immediately felt for Phoebe because who hasn't made mistakes they regret? She didn't realize the damage her article would cause until it was too late. Working with Seth and seeing the emotional turmoil he goes through on a daily basis guts Phoebe and she can help but admire his honor and strength. Seth is completely gorgeous (
Tonya's casting pick
), all male, hard body with intense blue eyes, so that combined with his beautiful soul makes it impossible for Phoebe not to fall head over heels for him. She knows that once Seth finds out exactly who she is her heart is destined for one gigantic break. Still, she can't help the powerful feelings Seth inspires.
The romance was absolutely lovely, a slow burn with a little ache thrown in, and oodles of chemistry, leading to steamy and intense sexy times! But the romance aside, this story was a complete thrill ride, filled with action and nail biting tension! I was on the edge of my seat and stayed up much later than I planned just to finish. The pages flew by and I read this in one sitting. If you enjoy romantic suspense Tonya Burrows is a total recommend!
The HORNET Series:
(click on cover for Goodreads link)
Wilde Security Series:
(click on cover for Goodreads link)
Connect with Tonya Burrows: