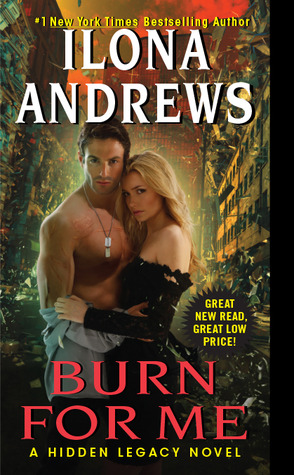 Burn for Me (Hidden Legacy, #1)
by Ilona Andrews
Will be Released on October 28th, 2014 by Avon
About the Book
#1 New York Times bestselling author Ilona Andrews launches a brand new Hidden Legacy series, in which one woman must place her trust in a seductive, dangerous man who sets off an even more dangerous desire…

Nevada Baylor is faced with the most challenging case of her detective career—a suicide mission to bring in a suspect in a volatile case. Nevada isn't sure she has the chops. Her quarry is a Prime, the highest rank of magic user, who can set anyone and anything on fire.

Then she's kidnapped by Connor "Mad" Rogan—a darkly tempting billionaire with equally devastating powers. Torn between wanting to run or surrender to their overwhelming attraction, Nevada must join forces with Rogan to stay alive.

Rogan's after the same target, so he needs Nevada. But she's getting under his skin, making him care about someone other than himself for a change. And, as Rogan has learned, love can be as perilous as death, especially in the magic world.
My Thoughts:
Holy hotness! This book OMG this book! I knew this was going to be amazing and I was not disappointed AT.ALL!
Nevada is a private investigator and she runs her family business. Her normal day to day usually consists of finding the cheating spouse, but when a Prime magic user blows up a bank and kills one of the guards her skills are needed elsewhere. To save her company from being closed down she has to team up with Mad Rogan and find Adam (the Prime) and deliver him safe to his family before the authorities have their way with him.
Okay so that is the really short version of the what the story is about. Ilona Andrews worlds are always very intricate and there is just no way I can even begin to describe everything. Just know that if you loved the Kate Daniels world I can guarantee you will love this one too. It is so thought out and well amazing honestly. I wasn't sure what kind of world I was going to be reading about, but man am I hooked! I just want to know more and I want the next book NOW!
Love love love the characters! Andrews always creates a tough kickass heroine and while I do love Kate I kinda like Nevada a little bit better. I know I know I never thought I would say that either, but Nevada has a soft side which I like. Kate is still one of my all time favorite females ever, but Nevada I don't know I just really connected with her. She didn't give in to anybody and she knew what needed to be done and just did it. I respected her decisions and I cheered for her when they worked out. I also liked that she knew her strong points and wasn't afraid to admit them.
Mad Rogan oh where do I begin. First I have to say I don't like the Mad part of his name. I get its his nickname, but every time his name would pop up I would stumble on the Mad part. I wish the author would have dropped it and just called him Rogan. I mean after awhile he wasn't just a side character and he deserved to just have a name. Okay that all being said my oh my as this man glorious. He of course was a badass Prime and knew it, but there is something underneath all the cockiness that I can't wait to discover. I loved his interactions with Nevada and well I did swoon at his words just a tad. Yes he is over confident, but I mean hello just look at him! I cannot wait to see who wins the stand off between them! I want Nevada to cave, but this back and forth is just too good!
There isn't anything I would change about this book except for the name thing which is a small complaint. The ending was interesting and definitely piqued my interest for the next book. I wanted it already before reading the last chapter, but after reading that I am dying for it! I want to know more about this world!
This is an amazing book that I know Kate Daniels fans will devour!
5 Shinning Suns!