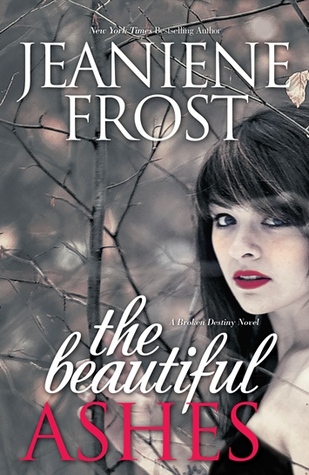 The Beautiful Ashes
by Jeaniene Frost
Publisher: Harlequin
Release Date: August 26th, 2014
Purchase:
Amazon
In a world of shadows, anything is possible. Except escaping your fate.

Ever since she was a child, Ivy has been gripped by visions of strange realms just beyond her own. But when her sister goes missing, Ivy discovers the truth is far worse—her hallucinations are real, and her sister is trapped in a parallel realm. And the one person who believes her is the dangerously attractive guy who's bound by an ancient legacy to betray her.

Adrian might have turned his back on those who raised him, but that doesn't mean he can change his fate…no matter how strong a pull he feels toward Ivy. Together they search for the powerful relic that can save her sister, but Adrian knows what Ivy doesn't: that every step brings Ivy closer to the truth about her own destiny, and a war that could doom the world. Sooner or later, it will be Ivy on one side and Adrian on the other. And nothing but ashes in between…
My thoughts:
I won't lie I was a little nervous going into this book because I loved Cat & Bones so much and I wasn't sure if the author would be able to create something new. I shouldn't have been worried though because Ms. Frost is amazing at what she does and totally blew me away with this one.
Okay so I have to say it, The Beautiful Ashes is like the Fever series by Karen Moning. We have a girl who is trying to find her sister who may or may not be dead, a mysterious guy who we know isn't quite human but aren't told what he actually is, a relic that needs to be found to save the world from the big baddies. Sound similar?? Now if you know me you know that I wasn't a huge fan of that series but and this is a big BUT I did like the overall storyline of it. The characters are what killed that series for me. Well with Frost's book the story is similar, but the character were phenomenal so that's where the stories take different paths.
Ivy and Adrian were awesome. They haven't surpassed Cat & Bones, but I have a feeling they could give them a run for their money given time. I thought Ivy was a great character. She was thrown into this world at full speed and tried to take everything in without flipping out. She did have some clue to this alternate world because she can see parallel worlds, but she didn't know exactly what was going on until she goes looking for her missing sister. She really proved that she could handle whatever was thrown at her and I appreciated that she kept her TSTL moments to a minimum. I think she only had one of those moments, but it was necessary so I can forgive her and move on. What impressed me the most though is that she didn't back down from what she needed to do. Yes she was a little lusty after Adrian, but from the way he was described I can't fault her. I wish her inner monologue about him would have been toned down a tad, but overall I really enjoyed hearing her POV.
Adrian was a fun character too. I am very much looking forward to learning more about him. He is dark and mysterious, but he does have something about him that just makes him feel young and not sure about this new world he is embarking on with Ivy. I liked that about him, he's mature but he has learning to do and I am excited that he will do this with Ivy.
Some of my favorite quotes are from the Cat & Bones series and I have quite a few already from this first installment. I love how witty Frost makes her characters and I think Ivy and Adrian are just getting started. I think its going to be hard to top the lizard visual, but I know she will.
I really enjoyed the story as well. The world is intriguing and kept me glued wondering what will pop up next and umm can I just say that if there are thoughts about a spin off I would love one from Brutus. He is the gargoyle and sounds like someone we all need to meet!!
Frost showed me that she isn't a one series hit wonder and has me already begging for the next installment. I have a feeling it will be even better than this one!
4 suns