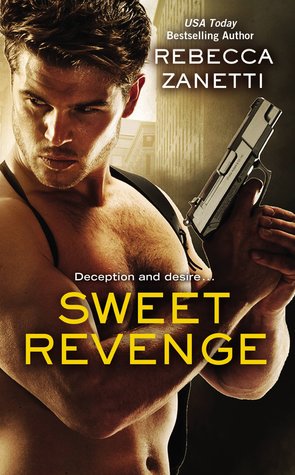 Publication Date: December 3rd 2013 by Forever
About the book:
The One Man She Can't Have

Matt Dean was born to fight…and kill. A member of a secret black-ops military unit, he and his brothers were genetically engineered by the government to be the perfect soldiers with an expiration date. Now, with time running out, he's gone rogue in a relentless quest for the one person who can save them. His mission leads him to Charmed, Idaho…and to a beautiful woman with eyes like emeralds and a body made for pleasure.

The One Woman He Can't Resist

Laney Jacobs knows the mysterious, handsome stranger is trouble from the moment he walks into her bar, looking for a job. She's spent years running from her own past—the last thing she needs is a romantic entanglement. But Matt's strong arms offer her protection, and his gentle touch promises passion unlike anything she's ever known. As lethal forces surround them, revealing explosive secrets about Matt's past and putting everything—and everyone—he holds dear in danger, can he save them all before time runs out?
My Thoughts:
I love it when a book keeps me at the edge of my seat, and the danger, excitement, and spicy romance contained in Sweet Revenge ticked all the right boxes for me! If you love romantic suspense like I do, you can't go wrong with Rebecca Zanetti!
Matt Dean, is in pursuit of the infamous Dr. Peters, the doctor who implanted the devices in their spines set to detonate in just six weeks, ending the Gray brother's lives. A list of suspects brings him to Charmed, Idaho where he meets the sexy bartender, Laney. Meeting Laney provides Matt with a perfect cover when she offers to hire Matt as a bouncer/fill in bartender, and he's happy to stay close to the gorgeous and sassy bar-owner. Little does Matt know that Laney has her own share of dangerous secrets. Matt feels an immediate pull towards her, but what touches him the most is the help and care she extends.
Raised expressly to become elite soldiers and killing machines, Matt and his brothers were never shown love or kindness. The only love they knew was between the brothers, and they banded together to escape their evil commander and his plans. Their escape will be cut short if they don't find the surgeon to deactivate the chips and the clock is ticking.
Laney is on the run from a dangerous past, but has spent the last three years in Charmed, Idaho in relative peace. That's until the hunky and hot ex-soldier passes out in her alleyway. Laney doesn't count on having any future with a man because of her past trouble, but it's hard to ignore the magnetic pull Matt has on her. Add to all of this is the threatening notes she starts receiving made all the more scary when her friend is brutally murdered. Is there a stalker/killer loose in the idyllic small country town? Or is it Laney's past finally catching up to her? Whatever it is, she's happy to have Matt at her back. Matt and Laney come to rely on each other in spite of their pasts.
Rebecca Zanetti is a master at romantic suspense and she did not disappoint with this installment of the Sin Brothers series. Not only was I on the edge of my seat trying to figure out the identity of the surgeon, there were a few possibilities in town, but I was anxious over Laney being targeted by the serial killer! Add in Matt's internal ticking time bomb and there was never a dull moment! The ending was one thrill ride!
At the heart of the story are two souls connected deeply. Both thought they'd never have a chance at happily-ever-after; the love and comfort they find in each other is something they've never experienced, and something they won't let go of:
"I've lost everyone I've ever cared about, and I've never loved somebody like this. I can't lose it, and I won't lose you … This has nothing to do with equal rights or trust. This is life, and you're mine."
This story wraps up nicely like Forgotten Sins did, but continuing story arc of the evil commander and his pursuit of the Gray brothers is still up in the air. There were some progress made, but one threat I had hoped resolved is still looming over the boys.
4 Suns
Connect with Rebecca Zanetti: