Publication Date: December 1st 2013
Purchase Link:
Free on Amazon
starting January 1-5th
Pressing the boundaries of both the psyche and the heart, Sam and Holden embark on a dangerous journey that will test the limits of love.

Sam Wintry's life used to be almost perfect. She was engaged to her childhood best friend and high school sweetheart, Tyler Marks, planning an amazing cross-country honeymoon during her college break. But after a hit-and-run leaves her in ruin, she begins seeing Tyler's fractured, ghostly presence, and her family believes she's losing her mind. Not until she completes their journey, stopping along the way to scatter Tyler's remains, will Tyler be able cross over. Only...is Sam ready for him to leave her?

When the black sheep of the Marks' family, Holden Marks, returns to check on Tyler's case, Sam convinces him to give her his brother's ashes. Despite their shaky history, she needs him...plus, he owes it to Sam and his brother. What she doesn't count on is Holden's relentlessness to go on the trip.

On the road, Holden realizes just how unhinged Sam has become. Dealing with her psychosis forces him to confront his dark past, making it harder to keep secrets hidden that should remain buried. Especially from Sam, the only woman he's ever loved. And as Sam starts to unravel the truth, she begins to question if the brother she's unwillingly falling for again is in an even darker place than her.
The Darkest Part was a second chance romance full of emotions, passion, and a slowly unraveling mystery. It was an enthralling and haunting read!
Samantha submerges into deep depression and darkness after losing her fiancé, Tyler in a tragic accident. The future she thought she had is forever gone and what's worse is it seems Tyler's ghost takes up visiting Sam, unable or unwilling to move on. Or is he? Could it be that overwhelming sadness has fractured Sam's mental health or is Sam really having ghostly visitations? In order to help both her and Tyler move on, Sam plans to take the roadtrip/honeymoon they had planned out before Tyler died. Unfortunately, his older brother Holden forces his way on the trip and with their tumultuous past it won't be smooth sailing.
The Darkest Part was a story of grief and mending. Sam and Holden discover vital details about Tyler that shed light on his death and their combined relationships. Some of these discoveries were hurtful, but Holden and Sam helped each other through the pain. I adored seeing Holden and Sam work on these things together because it helped them heal from the past, set miscommunications right and reinstall their romance, which should've been so long ago.
It pained Holden to see Sam so shaken by Tyler's death. He doesn't think there's any way she's actually seeing Tyler's ghost, but events and some of Sam's knowledge put doubts in his mind. Could she really be seeing Tyler's spirit? If not, Sam is close to really losing it and Holden is damned if he's going to let that happen. Sam has always been a vibrant, beautiful woman in Holden's opinion, even if he did wreck things with her years ago. Holden yearns to have a future with Sam, but that can't happen until they work out the issues and mystery surrounding Tyler's life and death.
I adored this darkly passionate tale! I was on the edge of my seat to figure out what exactly happened with Tyler, Holden and Sam. It was obvious to me that Sam and Tyler's romance wasn't as firm as it should've been considering they were supposed to get married. Sam and Holden's relationship, as they embark on their road-trip is adversarial, at least on Sam's part, and I enjoyed seeing the walls and bitter feelings melt away into a passionate, all-consuming need for one another. It was a slow and fiery build!
Trisha Wolfe weaved together a compelling, dark, and mysterious tale with a satisfying second chance romance. I plan on reading the next in the series:
Losing Track
very soon!
As a huge bonus, this moving story will be free on Amazon for a limited time: January 1-5! Be sure to grab yourself a copy!
4 Suns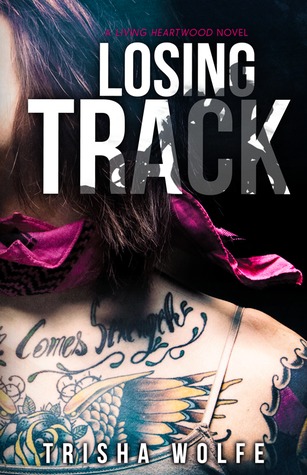 About the author:
From an early age, Trisha Wolfe dreamed up fantasy worlds and characters and was accused of talking to herself. Today, she lives in South Carolina with her family and writes full time, using her fantasy worlds as an excuse to continue talking to herself.
For more information on Trisha Wolfe and her works, please visit:
www.trishawolfe.co
.
To be the first to hear about new releases and sale events, sign up for Trisha Wolfe's Newsletter:
http://bit.ly/1rXTKI7
.