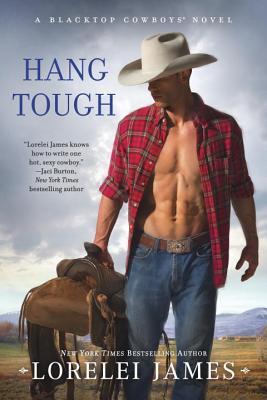 Publication Date: November 1st 2016 by Berkley
About the book:
In the new Blacktop Cowboys® novel from the New York Times bestselling author of Wrapped and Strapped, one woman learns that when it comes to cowboys, looks can be deceiving...

When Tobin Hale stepped in to stop Garnet Evans's son from railroading her out of her own home, he knew moving in with his favorite Mud Lily could be seen as strange. But nothing prepared him for the arrival of Garnet's fiery, beautiful granddaughter, Jade—or her assumption that he's up to no good...

While Tobin might be the hottest man Jade Evans has ever seen, his physical attributes won't distract her from protecting her grandma from his sweet-talking ways. But the stubborn cowboy digs in his boot heels and refuses to leave. Stuck in close quarters together, Jade learns Tobin is the real deal—a hardworking, fiercely loyal man and she's the one in danger of losing her heart.

And just when he was prepared to leave Muddy Gap behind, Tobin may have found the kind of woman worth sticking around for...
Tobin is at crossroads in his life. He's been working at the Split Rock Ranch as a ranch hand, and under utilizing his specialties in farm animal reproductive and genetic research. Also, he's watched as each of his friends found love, and settled down, while Tobin, unfortunately, remains alone. Leaving Muddy Gap for those reasons becomes an imperative.

He's all set to take a job in Cheyanne when his favorite Mud Lilly, Garnet, needs his assistance and protection. Seems like Garnet's stunts (Waving a gun around, and being locked up overnight for a drunken disorderly. Yes, she's a bit of an eccentric grandma!) have finally caught up with her, and Garnet's son is wondering if she's safe living on her own after hearing about her shenanigans. Garnet asks Tobin to move in and fend off any movers that might come and try and take her away to a nice, quite, boring nursing home. Tobin is happy to oblige because he couldn't bear for anyone to crush Garnet's free spirit.

Jade Evans loves her Grandma Garnet. She knows GG gets up to trouble here and there, but mostly harmless fun. However, the news that some young cowboy has taken up residence at GG's is worrisome. Jade heads over to Muddy Gap to make sure her Grandma isn't being taken advantage of by some enterprising freeloader. What she finds is an infuriating, but oh-so-hot cowboy challenging her at every turn.

Both Jade and Tobin are dissatisfied with the direction their lives have taken them, so each can relate, (after they stop the snarking and snipping at each other) and find they have so much in common. Their mutual attraction was immediate, delicious, and intense! Love-to-hate romances are a lot of fun especially when they don't go on for too long. Jade and Tobin's relationship was low on drama and hot has hell!

I loved Tobin's determined, bossy, possessive side, and oh lordy, a muscled cowboy gets me hot and bothered! Jade was normally a shy girl, but for some reason she had no problem sparring with Tobin, and pushing his buttons!

All around, Hang Tough was a sizzling romance with great quirky secondary characters, making for a story I thoroughly enjoyed!
4 Suns
Connect with Lorelei James:
Berkley has kindly provided a Paperback Copy of Hang Tough by Lorelei James to one of our readers. The giveaway is open to US & CA residents only. Simply fill out the rafflecopter below for a chance to win. Good luck!
a Rafflecopter giveaway