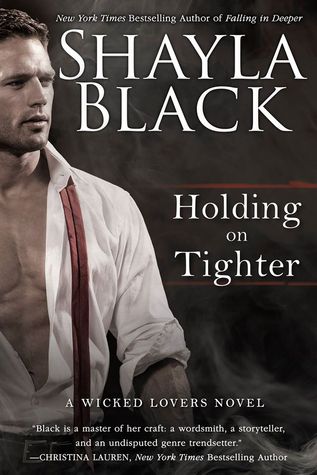 Publication Date: February 7th 2017 by Berkley
Purchase Links: Amazon | Barnes & Noble | Kobo
About the book:
Jolie Quinn is a woman in charge. Her no-nonsense attitude has made her a rising star in the fashion world and her brand a household name among the Dallas elite. Nothing will stop her from achieving her goals—not even the gorgeous British security contractor who seems just as interested in seeing her personal assets as he is in protecting her professional ones.

After a tragedy left him broken, Heath Powell made a rule of staying unattached. But Jolie challenges him in a way he can't ignore, and he isn't used to backing down from a confrontation—especially when the reward for winning could feel so good. As passion blazes between them, the stubborn, confident beauty arouses more than his desire. She touches his heart.

When a mysterious enemy threatens Jolie and her company, Heath is the only person Jolie can trust to help. But working with him to save her business might put her dangerously at risk of falling in love…
Heath Powell hasn't had a relationship since his wife died seven years back. He gets by with the meaningless hookups figuring he doesn't deserve happiness when he couldn't protect his wife from a violent death. No one tempts Heath to change things until he starts working as Jolie Quinn's chief of security. She's confident, smart, and doesn't bend for any man, and while Heath is the consummate dominant personality, he's powerfully attracted to Jolie. He's tempted by her more than he's ever been tempted by any woman. Could he get this strong-willed, feisty woman to submit? It would certainly be fun to try.
Jolie was raised seeing her mother center her life around the wants and whims of a man, only to be used and have her heart broken. Jolie refuses to be that woman. She's built her business from scratch and doesn't need a man to provide anything for her. Or so she thinks. Jolie's very drawn to Heath, but she's heard about his reputation and therefore keeps her distance. She will not become another notch in his belt, but when a threat puts her sister and her in danger, Jolie must put aside her reservations about Heath and stick close. Can she resist that dangerous pull of attraction or will she become a heartbroken castoff like her mother has done time and time again?
This was a high intensity romance, from the burning attraction Jolie and Heath share to the danger they face. I wouldn't categorize this as a BDSM romance, but there was some definite power play between Jolie and Heath. He wants her to submit her body and trust that he can provide mind blowing pleasure by doing so. As they draw closer, Heath wants Jolie to submit her mind and heart, as well. I enjoyed the push and pull, and their time together got me hot and bothered!
While I easily guessed the mystery behind all the threats it was still an exciting ride. I was a little annoyed with some stupid behavior in the end, but the situation was short lived so it wasn't too bad.
3.5 Suns
Berkley has generously provided a Paperback Copy of Holding on Tighter by Shayla Black to one Waves of Fiction follower. The giveaway is open to US and CA Residents only. Good luck!
a Rafflecopter giveaway