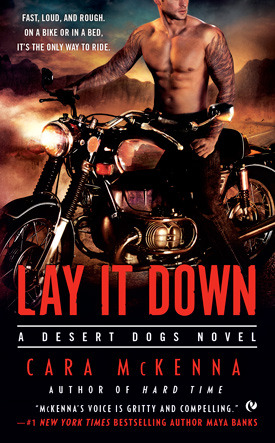 Publication Date: August 5th 2014 by Signet Eclipse
Backbreaking days, wild nights, and the hard hum of steel between your thighs...

That's a life well lived, according to the Desert Dogs—four friends who call Fortuity, Nevada, their badlands home.

Vince Grossier is the self-crowned outlaw king around here. But when Fortuity's slick new mayor invites a casino development to town, greed isn't far behind—and it claims Vince's good friend as its first casualty. With the law turning a blind eye to the mysterious death, Vince must seek his own brand of justice. The pretty photographer hired by the developers might be the key to uncovering the truth. And she's a temptation too good to pass up.

Finally free of a controlling ex, Kim Paget's not looking to be taken for a ride—not on the back of some tattooed roughneck's bike and definitely not in his bed. But when she uncovers evidence supporting Vince's suspicions of murder, Kim must entrust her safety to a man whose body threatens danger of a whole different kind.
My Thoughts:
Lay It Down was an intriguing start to Cara McKenna's new series, and one that I hope to enjoy more as future installments come out.
Vince may come off as big, bad and tough, and he is, but he's also a loyal friend, son, and brother. So when his longtime friend, Deputy Alex Dunn winds up dead in suspicious circumstances, Vince makes it his mission to find out what happened. Meeting Kim, a photographer for Sunnyside, the developer of a new casino, fits nicely into his plans of investigation, he just doesn't expect to feel so deeply for her. When she comes into danger as the mystery unfolds, Vince's top priority is keeping her safe.
Kim is on assignment in the little dusty town of Fortuity, photographing the future site of a big casino, a project none of the locals are happy about. During her stay she runs into the big, brutish, and gorgeous Vince. She's completely fascinated and hopelessly attracted. He's not her type at all but Kim's ready for some passion, and maybe a little danger.
With a punch of hot curiosity, she let herself imagine what a guy like Vince would be like in bed. What he'd say. What he'd want, and how he'd likely bully his way into getting offered whatever that was, just like he'd strong-armed her into staying for the beer. And though that seemed kind of dangerous, it was also exciting.
As she becomes embroiled in the mystery Vince is hell bent in solving, Kim gets way more than she bargained for.
Cara McKenna's writing is beautiful and she is a pro at writing scenes that can make you seriously hot and send your pulses racing! Vince was outwardly tough and maybe a little arrogant, but I wouldn't complain:
He was a giving lover, in his own cocky way. If Vince was selfish, it was purely in how he wanted to master a woman, during sex. And that was a breed of male pushiness she could actually get on board with.
Yes, please!
I enjoyed Lay It Down overall, but I had some trouble investing in the story. For some reason the characters felt a little superficial, and I never felt like I had a good read on Vince or Kim. I'm not sure if it had something to do with the third person narration, which is not my favorite and usually makes me feel less connected. Also, I felt like the mystery, even though only a small part was solved, should've been fleshed out more to give us something to grab onto and wonder about in the next book. I guess the mystery will be part of a story arc continuing on into the next books.
Because this is the start of the series, it may be that we're just getting the groundwork here, getting to know the characters and building on the overall story. I plan on picking up the next book to find out.
3.5 Suns
Connect with Cara McKenna:
The publisher generously provided a Paperback copy of Lay It Down to one Waves of Fiction follower. The giveaway is restricted to US residents only. Simply fill out the rafflecopter below for a chance to win.
a Rafflecopter giveaway