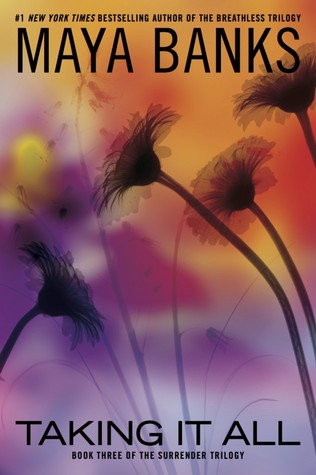 Publication Date: August 5th 2014 by Berkley Trade
Chessy and Tate have been married for several years. In the beginning, their relationship was everything she wanted. Passionate. All consuming. She offered her submission freely and Tate cherished her gift with a tenderness that made her feel safe. Content. Wanted. And loved beyond all measure. But as the years have gone by, Tate has become more immersed in making his business the success it has become, and Chessy has taken a back seat to his business obligations. Growing unhappier with the status of their once blissful marriage, Chessy knows that something has to give. Or they stand to lose it all

Tate loves his wife. Has always loved her. Providing for her has always been his number one priority. But lately she's seemed unhappy, and he's worried. Worried enough that he arranges for a night together that he hopes will reignite the fire that once burned like an inferno between them.

But a business call at the wrong time threatens everything. Chessy's safety, his concentration, his wife's faith in him as her husband, a man sworn to love and protect her above all else. Gutted with the realization that he's going to lose her—has already lost her—he readies for the fight of his life. Whatever it takes, he'll get her back. And prove to her that nothing is more important than her love. And that if she'll allow him to prove himself one more time, he'll take it all. Everything. But he'll give far more back. Himself. His undying love.
My Thoughts:
Taking It All was my favorite book in the Surrender Trilogy. I think part of the reason was the fact that Chessy and Tate were married, and I could relate to some of the heartache they went through. A long lasting marriage is all about hanging on through the inevitable misunderstandings and heartache and hopefully, coming out closer and stronger because of it.
I knew from the last book, Giving In, Chessy and Tate's marriage was in trouble. It seemed Chessy was at the bottom of Tate's list of priorities and this was breaking her heart slowly. Tate was letting his business take over his time and life and thought nothing standing Chessy up and neglecting her over and over again. Their situation comes to a head on their anniversary, and Chessy finally tells Tate she's had enough. Chessy agrees to sticking things out when Tate promises to change. As a way to make things up to her, Tate plans a night at The House, their BDSM club, but instead he puts Chessy in danger with his lack of care. Can their marriage survive the seemingly unforgivable mistake that Tate makes? Wow, I wasn't sure it would be possible!
Apparently, part of the whole dominant/submissive theme is the complete care and control of your submissive and this is something Chessy craved after being a victim of neglect growing up. Tate's needs as a dominant are fulfilled by controlling Chessy's pleasure, lavishing attention, and providing for her. Their particular needs and desires were perfectly suited to each other. But Tate basically ruins that by letting his business consume all his time and attention.
The anniversary dinner was bad enough, but the scene at the BDSM club that led to something brutal that had me wanting to knee Tate in the balls! I was completely outraged and if I were Chessy, I'm not sure I could've forgiven him. He seriously had his head completely up his ass! Thankfully, groveling and more groveling happened. Tate really did put all his efforts into fixing and atoning for his utter f-up, but still…. I was glad Chessy didn't just roll over and forgive quickly. However,
(highlight for spoiler)
when she did forgive him, supposedly she completely trusted him again, and was going to completely forget the whole incident. I find that a little hard to believe. To me, even if you did decide to forgive something like this you wouldn't forget so easily. It would take some time to build that trust back.
Also, this wasn't touched on, but I don't think I could EVER go back to that club or put myself in a similar situation again if I were Chessy!
I always find stories that involve BDSM situations fantastical, but entirely HOT! The scenes usually get me worked up like nothing else, and Taking It All was no exception! Also, I'm not a fan of more than two people being involved in a romance; it always feels like cheating to me, so some of the situations Chessy and Tate were open to left me a little uncomfortable. Not sure if some of that would still be on the table after all that transpired, though, anyhow. Even with these reservations, I was completely sucked into Chessy and Tate's journey and eager for their HEA.
Taking It All brought out intense and conflicting emotions, and it ended up being my favorite in the series!
4 Suns
Connect with Maya Banks:
a Rafflecopter giveaway