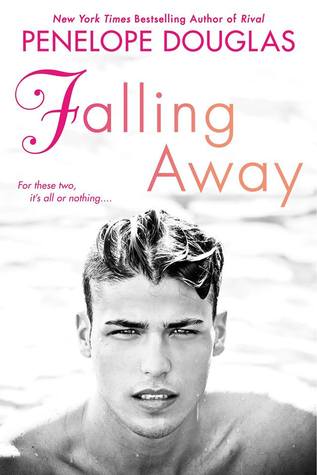 Publication Date: January 6th 2014 by Penguin Group
Purchase Links:
Amazon | Barnes & Noble
About the book:
Jaxon is the guy she's supposed to avoid.

K.C. is the girl he won't let get away....

K. C. Carter has always followed the rules—until this year, when a mistake leaves her the talk of her college campus and her carefully arranged life comes crashing to a halt. Now she's stuck in her small hometown for the summer to complete her court-ordered community service, and to make matters worse, trouble is living right next door.

Jaxon Trent is the worst kind of temptation and exactly what K.C. was supposed to stay away from in high school. But he never forgot her. She was the one girl who wouldn't give him the time of day and the only one to ever say no. Fate has brought K.C. back into his life—except what he thought was a great twist of luck turns out to be too close for comfort. As the bond between them grows, he discovers that convincing K.C. to get out from her mother's shadow is hard, but revealing the darkest parts of his soul is nearly impossible.…
Fans of the Fall Away series will be pleased with this installment, Jax and K.C.'s romance. As usual with Penelope Douglas' writing, Falling Away was panty-melting hot! New Adult on crack, HOT! She's got a gift with lighting fires and making you squirm! But more than the incredible sizzle, Ms. Douglas shines at writing passionate, addictive stories that you'll have a hard time putting down.
Jax has been crushing on K.C. since high school, and even though she might have seemed to reciprocate his feelings, K.C. had a boyfriend. Also, she was a year older than Jax, and in high school that can seem like a millennium. Still, for three years he's obsessed and pined away for K.C. and now she's back.
K.C. is back home from college in Arizona on her own for the summer after finding out her boyfriend cheated on her for the second time. K.C. got ticked and landed herself some community service and mysteriously she was assigned summer school tutoring for high school kids back home in Shelburne Falls.
Running into Jax while she's home is an equally thrilling and dreadful prospect. In high school K.C. felt a magnetic pull towards him, but tried to shut those feelings down. She was never as rattled and shaken by lust and desire for Liam like she is with Jax, but he spells all kinds of danger.
I wanted to touch him and crawl on top of him at every opportunity. His smell, his personality, his body, everything intoxicated me.
I've been awaiting Falling Away because Jax seemed like such a complex and tortured character. He went through so much, more than even his brother Jared. If anyone deserved some loving (not just random screwing), it was Jax.
Can't say I was super thrilled with K.C. being the object of Jax's affection because I wasn't a big fan after what happened in Bully. When you know your best friend is completely gaga over a guy (Jared), you don't "date" him, even if it is some sort of pretend scenario to make an ex jealous. Tate didn't know that, and it didn't seem all that pretend at the time. Surprisingly, I liked K.C. aka Juliet when I got to know her, more than Jax actually. Juliet wanted to change things about her life and went about doing it. I like a girl who learns from her mistakes and doesn't wallow in self-pity.
Penelope Douglas treads a fine line with her male protagonists. Like Jared, Jax was edgy, tortured, bossy, and kind of a dick, so it's tricky to get the mix just right so the reader doesn't hate the guy. I did like the attitude and Jax's wicked mouth:
"I love it when you get mouthy." He whispered down to me. "It makes me want to shut you up."
Jax was a great blend, minus the last minute "pushing her away for her own good" drama at the very end.
I loved catching up with Madoc and Fallon, but I must admit the time with Tate and Jared was unsettling and I could feel the storm brewing. Didn't know how bad it would be until I read the teaser for Aflame included at the end of the book. That was an unwelcome shock, to put it mildly! I am NOT happy at all with this turn of events and I have to say that teaser cast a dark shadow on the whole series for me. Aflame is expected to release April 21st and I'm crossing my fingers that it doesn't majorly tick me off.
3.5 Suns
Connect with Penelope Douglas: