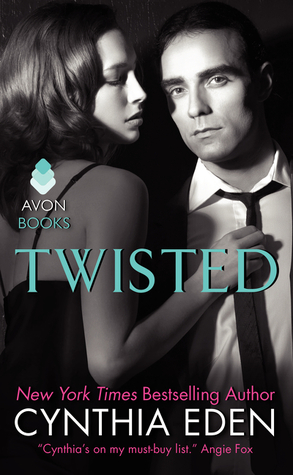 Publication Date: April 28th 2015 by Avon
About the book:
In the second seductive LOST novel from New York Times bestselling author Cynthia Eden, an obsessed Last Option Search Team agent goes looking for trouble—and finds her in the Big Easy.

Dean Bannon comes to New Orleans for one reason only: to track down a missing sixteen-year-old girl. That's before he meets the drop-dead gorgeous con artist who makes him want to lose his legendary control.

With her past, Emma Castille doesn't claim to be psychic. She just notices things other people don't. Like the fear in a runaway's eyes—or the pain in an ex-FBI agent's heart. Her chemistry with Dean is blistering, but Emma follows her passion . . . not someone else's orders.

Then a madman breaks into Emma's home and leaves a twisted message: You're next. Now Dean refuses to let her out of his sight until he pries every last secret from her full, sexy lips. And suddenly Emma's aching to give him everything he wants.
Dean Bannon was an FBI agent until the bureau's rules and delays led to the death in a case he was working. After that he left the bureau to work for Last Option Search Team or LOST, a group of specialists in tracking down missing people. Dean comes to New Orleans looking for a missing sixteen year-old girl, Julia. It seems the last one to see Julia alive is Emma Castille, a street vendor with a knack for reading people. To Dean, Emma is just another con artist bilking the public out of money to hear her utter nonsense readings, but he soon finds her skills very handy to their case. Even with his doubts about Emma, he can't deny the immediate attraction. She's gorgeous and the more he gets to know her the more he realizes there's to Emma than meets the eye.
Emma learned from her father to open her eyes and really look around. She's a pro at reading people and surroundings so well that some would mistake her as s psychic. Emma has dealt with death and darkness before, losing her father in the process. She wants to find Julia so much she isn't afraid when the abductor targets Emma, as well.
Twisted was everything I want from a romantic suspense novel: action, danger, twists and passion. This is the kind of story you want to read straight through to find out exactly how it all turns out. It was easy to get behind Dean and Emma's instant and intense connection. Being faced with life and death situations really boiled down what was most important to them and they got to know each other at a deep level quickly. Their romance was hot and desperate, and I thoroughly enjoyed it!
Even though I did guess who the killer was before it was revealed there was danger and twists at every turn making this one exciting read! I'm
very
intrigued by the next installment,
Shattered
, where Dr. Sarah Jacobs, a criminal psychologist in the LOST group, is paired up with Jax, a guy definitely on the wrong side of the law. Can't wait!
I switched back and forth from the audio version to the e-copy and I have to say Abby Craden's narration is amazing. Her voice lends a sultry and dark edge to the story I really enjoyed!
4 Suns