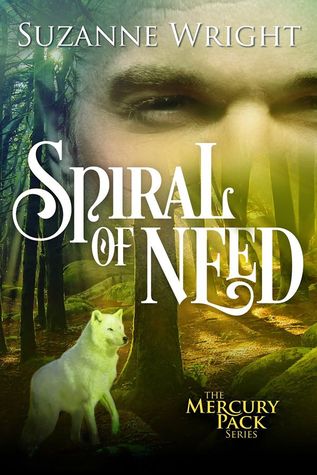 Publication Date: September 29th by Montlake Romance
About the book:
Ally Marshall isn't just a wolf shifter — she's a Seer.

But a girl doesn't exactly need special powers to know that Derren Hudson despises her entire kind. Disdain practically rolls off the Beta of the Mercury Pack . . . disdain mixed with a healthy dose of desire. And no matter how much the ruggedly handsome male appeals to her, this is one call of the wild she's determined to ignore.

After one betrayal too many, Derren doesn't have much use for Seers — except for Ally.

Forced into acting as her protector, he finds himself intensely and passionately drawn to the woman who incites his primal instinct to claim.

And when enemies target the pack, Ally's gift may be just what the Mercury Pack needs.

Can he put his distrust aside, or will he force himself to turn his back on the one woman who makes his inner beast howl?
Ally is a shifter, but also a Seer, a person who receives visions about the future. Unfortunately, being a Seer makes Ally the victim of prejudices because a few Seers have abused their powers. This is not why she needs to switch packs, though. Ally was involved with another shifter, Zeke, to the point of imprinting because they wanted to be together in spite of not being mates, but then Zeke's mate was discovered. Ally graciously stepped aside with her heart a little broken, but she genuinely wished Zeke happy. Zeke's mate, Rachelle, wasn't so nice. Rachelle maneuvered and manipulated until it wasn't safe for Ally to stay in their pack any longer.
Derren has no love for Seers, because one nearly destroyed his life. When an old friend calls in a favor: stash Ally away and protect her, Derren has no choice but to take her in, but he doesn't trust her. Doesn't mean he can ignore the magnetic pull she immediately has on him. But Ally starts gaining the respect and trust of Derren and the whole pack when her visions thwart enemies and save lives.
I've been a fan of Suzanne Wright's shifter series from the very beginning. She has a fun, sexy take on the shifter dynamics, and blends that in with some exciting action and danger. Ally and Derren's relationship was filled with sizzling chemistry, but I enjoyed seeing their trust and friendship develop as well. As usual, Ms. Wright writes some sinfully sexy scenes, and I love the possessive and obsessive nature of Ally and Derren's romance, typical of shifter romances:
"I'd always figured that love was sappy and gooey. But it's not." What he felt for Ally was a feral, hissing, clawing, boundless emotion that probably should have scared him but didn't.
Spiral of Need officially takes us into the Mercury Pack series although many of the stories from the Phoenix Pack series involved members from this pack, and they still are closely entwined. Especially now that Nick, the Alpha of the Mercury Pack and Trey, the Alpha of the Phoenix Pack are "blooded". We get to "see" a lot of characters from the Phoenix Pack series, and I love the combination. Plus, this story just wouldn't feel right without a cheesy pickup line from Dominic!
Dominic smiled at Ally: "If you were my homework, I'd do you on the table."
Lol!
Favorite Quote: (Highlight for spoiler)
"I'm keeping you, Ally Marshall." And she'd just have to accept it, because he wouldn't let her go. "You're mine."
Startled and spooked by that very sincere announcement that almost sounded…binding, Ally didn't speak for a moment. "Yours?"
"All mine. You got under my skin, became my obsession. There's no going back."
"What do you want from me?"
"Everything you have to give. And I'll get it."
(End of spoiler)