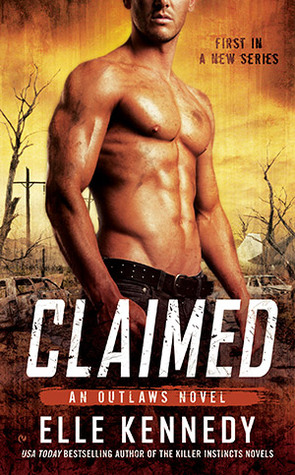 Publication Date: October 6th 2015 by Signet
The bestselling author of the Killer Instincts novels "knows how to write scorching sexual tension" (USA Today). Now she really sets it on fire in a new series about men and women living on the edge of violence, sex, and life and death.

After a devastating war decimated most of the world, Hudson Lane has only known the oppressive life under her own father's tyranny. She finally escapes, branding herself an outlaw and hunted by the Enforcers. Her best chance at survival is Connor Mackenzie, an aggressively sensual fugitive who opens her eyes to the wicked possibilities of a world without rules.

As the leader of a band of outlaw fighters, Connor can't resist the beautiful stranger who asks for his protection. Despite his reservations, he agrees to introduce her to a whole new way of life. But when Connor discovers Hudson's connection to the enemies of liberty, he wonders how far he can trust the woman who has abandoned all inhibitions to challenge every forbidden desire.
Claimed introduces into a futuristic time where wars have changed the world as we know it. The infrastructure, religion, and a lot of the population are gone. In its place is a new government, the Global Council which is strict and oppressive. People who don't want to be subject can leave the cities and become Outlaws. The outlaying area, which is where Connor and his small band of men survive, sort of reminded me of a modern day Wild West.
Hudson was a prominent member of the inner city, but escaping a forced marriage meant fleeing the only life she ever knew. While Hudson was trained in combat as an Enforcer, and is a badass on her own, being out of the city is a dangerous place for one lone woman, capable or not. When Hudson spots Connor and his men, she thinks attaching herself to his group will be her best bet getting away and surviving. Doesn't hurt that she's immediately attracted to Connor who is so very male and gorgeous! Little does she know that Connor is hell bent on exacting revenge on someone very close to her.
Besides surviving as an Outlaw, Connor's main purpose in life is getting revenge on Dominik, one of the lead Enforcers for the Global Council. The last thing he wants is more people in his group adding more responsibility and vulnerability, but he's drawn to Hudson. Connor doesn't want to get attached to anyone, but he can't help the overwhelming attraction and possessiveness she brings out in him.
Claimed was seriously hot! For the most part, the usual societal structure is just gone, so there aren't the normal moral boundaries in place. With some of these rules out the window it left Ms. Kennedy the license to make this book very naughty, more on the erotica side than just a romance. Connor and Hudson burned up the pages! There was an attraction between Rylan and Hudson as well, and Connor didn't mind allowing him in on their action a few times, but no worries, it's clear that Hudson and Connor are only serious about each other. I'm usually not into threesomes, it seems like there's always a third wheel, but somehow this didn't bother me. Rylan is sweet, sexy, laid back, and Connor's best friend, more into any hookup for fun than attachment.
Elle Kennedy writes addictive stories with relatable characters no matter which genre she tackles. I'll pick up anything she cares to write, and I can't wait for the next installment!